Administrative-territorial system
Power » Administrative-territorial system » Vidyaevo
---
VIDYAEVO
Address: Tsentralnaya St.,8, Vidyaevo, 184372, the Murmansk region
Tel. 3-28-25.
E-mail: Admzatovid@pisem.net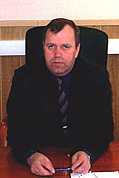 The head of the town is Dubovoy Sergey Mikhailovich
Small and middle business is quite developed in Vidyaevo.
In the sphere of everyday service enterprises with private form of property and private entrepreneurs have leading positions. State and municipal institutions and enterprises provide with services in the sphere of medicine, housing, culture, education and sport.
Some fishery farms are registered on the territory of the town of Vidyaevo. Among them can be named "Vidyaevets", "Atlant", and the branch of "Belriba" farm. The main activity of these farms are catching and processing of fish and sea products.