Power » Administrative-territorial system » Kola district
---

KOLA DISTRICT
Address of administration: Sovetsky Avenue, 50, Kola, the Murmansk region, 184380
Tel: 2-26-10, Fax: 2-36-00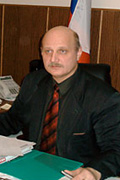 The head of the town is Poliektov Vladimir Ivanovich
Kola was founded in 1556. The Kola district as an administration unit was formed in 1927. It is situated in the North and West part of the Murmasnk region. Within the Kolsky administrative district are the villages of Murmashi, Verkhnetulomsky, Tumanny, Molochny and the others.
Five territorial districts are formed on the territory of the Kola district for the effective management of infrastructure.
The population of the district is about 52.4 thousand people.
The Kola district is agricultural district. It has two milk producing complexes, two large poultry factories, the largest greenhouse complex, fur-breeding farm, fish breeding factories, the Verkhnetulomskaya hydro electric power plant, building material factory, timber mills and factories.
The geographical position of the district, transport communications and landscape create great possibility for tourism development here. The water resources of the district are quite large. The finishing of reconstruction of road Kola-state board promotes to the development of car tourism from Finland to the Murmansk region.
CC "Kola travels" deals with organisation of sport salmon fishing on the Kola River and attracts foreign tourists.