Power » Administrative-territorial system » Polyarny
---
POLYARNY
Address: Sovetskaya st., 8, Polyarny, 184650, the Murmansk region.
Tel. 41-431, 41-849.
E-mail: admin@zatopol.ru
Web-сайт: www.zatopol.ru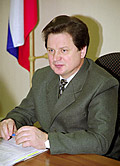 The head of the town is Cherepov Vladimir Alexandrovich
Polyarny was granted the status of a town in 1939.
Since 1933 it had been the capital of the Northern Fleet and its development connected with navy base. The town is situated on the coast of the Kola Bay close to the outlet to the Barents Sea. Economy of the town is quite developed; here you can find several enterprises. The positive conditions for the small business undertakings development are created here.
Nuclear submarines and ships are repaired in Polyarny. Here you can find the branch of the Knipovich Polar Research Institute of Marine Fisheries and Oceanography. There is the House of Culture in Polyarny.