Power » Administrative-territorial system » Kovdor district
---

KOVDOR DISTRICT
Address of administration: Lenina Avenue, 1, Kovdor, the Murmansk region, 184141
Tel: (815-35) 5-02-42, Fax (815-35) 7-28-28.
E-mail: kovadm@kovdor.mels.ru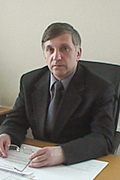 The head of the Kovdor district is Dombrovsky Leonid Iosiphovich
The Kovdor district is situated on the South and West of the Kola Peninsula, it borders with the Kandalakha, Apatity and Polyarnye Zory districts.
Administrative centre of the district is Kovdor, the population of it is 23.5 thousand people. On the 20th of September 1979 Kovdor got the status of the town.
It is located quite far away from the towns of the region but at the same time it is not far away from Finland. There are about 100 lakes on the territory of the region, the largest is the Kalozhnoye Lake. The district is quite rich in different minerals.
The main direction of industry development of the district is mining. The leading enterprise is the Kovdor Mining and Ore-Separating Industrial Complex. It is included in the Mineral chemical company "Eurochim" and it supplies Russian and foreign markets with produced products.
The Kovdorslyuda industrial Complex is situated in this district.
There are 10 comprehensive schools (3450 pupils), 10 children pre-school institutions (1212 children), two professional schools (560 students), the branch of Saint-Petersburg economical college (240 students), some institutions of additional education in the district. Foreign guests are invited to visit the Palace of Culture and the Museum of Local Lore.