Society » Civil society » Associations of the subjects of the Russian Federation, heading the Northern Fleet of the Red Banner
---

Associations of the subjects of the Russian Federation, heading the Northern Fleet of the Red Banner
"Only together we can revive the pride of our Motherland - the Navy Fleet and its main component The Red Banner Northern Fleet."
The president of the association, the Governor of the Murmnansk region
Y. À. Evdokimov
Founded: November, 5, 1997 in Moscow.
Registered: November, 18, 1997 , certificate ¹ 133, by the Justice Department of the Murmansk Region
Place:Lenina Avenue, 75, room 15, Murmansk, 183006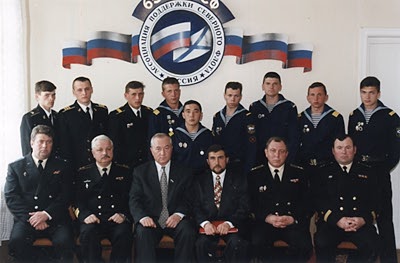 President of the Association: the Governor of the Murmansk region Evdokimov Yury Alexeevich.
Vice-President of the Association: the Governor of the Vologda region Pozgalev Vyacheslav Evgenjevich
Constituent agreement was signed by:
13 republics
3 lands
26 oblasts
6 towns
3 regions
1 district
Including:

Republics: Adigeia, Altai, Bashkortostan, Buryatia, Ingooshetia, Komi, Mordovia, Tatarstan, Osetiya-Àlania, Karelia, Chuvashia, Dagestan, Khakasia.

Lands: Krasnodarsky, Altaisky, Stavropolsky.

Oblasts: Vologda, Ivanovo, Murmansk, Ryazan, Saratov, Tula, Tomsk, Arkhangelsk, bryansk, Astrakhan, Belgorod, Kaluga, St. Petersburg, Lipetsk, Moscow, Nizhny Novgorod, Orel, Rostov, Tambov, Orenburg, Pskov, Novgorod, Chelyabinsk.

Towns: Moscow, Saint Petersburg, Braynsk, Polyarny, Snezhnogorsk, Skalisty.

Interregional association of the subjects of the Russian Federation and towns, patronising the vessels and formations of the Red Banner Northern Fleet is non commercial organisation, formed by legislative bodies, Governments and Administrations of the Subjects of the Russian Federation, towns.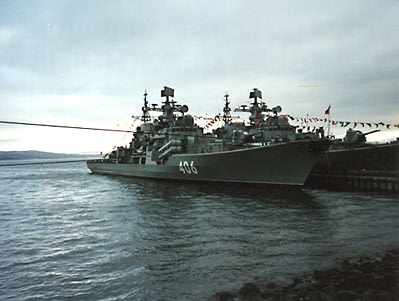 Association was formed for the coordinated and joint activity of included subjects of the RF and towns and the other members on the further strengthening and development of patronage under vessels and formations of the Northern Fleet.
The main aim of the Association is the development and realisation of events directed on the solving of the problems of patriotic education of the youth, realisation of social and economical welfare of military men and retired persons, conduction of events of cultural, creative, scientific, research and publishing activity, promotion of patronage in mass media, distribution of information about real life of the fleet, its history and traditions.
In 1998 on the vessels and in the formation of the fleet was about 60 patronage delegation. In summer due to support of the Association founders 490 children of military men rested in the different regions of our country.
Everybody, who is interested in the life and alert readiness of the Red Banner Northern Fleet, is welcome.
Settlement account of the Association ¹ 40703810900040000004 in the Kola branch of AKB "ÌBRR" in Murmansk, Papanina St., 3.
Ê/ñ 30101810500000000774
ÁÈÊ 044705774
ÈÍÍ 5190900180
Êîä ïî ÎÊÎÍÕ - 98400
Êîä ïî ÎÊÏÎ - 45253945
Tel:
486-444, fax 45-64-38
486-445, fax 47-65-03
486-446, fax 45-10-54.