Society » Culture » Theaters » Regional puppet show
---
Regional puppet show
The performance Snowy Queen
The most creative people in the world are children. And the most severe spectators are also children. The art of puppet show is considered as the most allegorical and metaphorical of all the kinds of shows.
The Murmasnk regional puppet show is open for everybody today. There are 34 performances in the repertoire of the theatres, annually 3-4 new ones appear.
Different holidays, mass events, charity performances in children's homes, boarding schools and children city hospital are traditional here.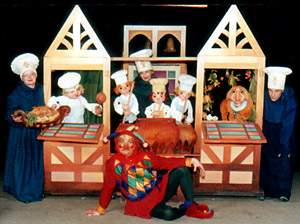 The performance Dwarf Nose
Real masters, who are in love with their profession, produce all the puppets, suits, decors and properties for performances.
In spite of its 70 years history the theatre is quite young. It is still searching for new creative ideas. The results of such searchers are happy faces of children.